My Nana is 91 years old.
She cooked many meals for me.
I slept many nights in her hide-a-bed during weekend sleepovers,
I waited impatiently for Saturday morning cartoons to start.
Our parents didn't have cable
but Nana did.
Scooby Dooby Doo, followed by American Bandstand.
She let us eat sugared cereal in the bed.
It was Heaven.
Today her eyesight is failing, her hearing a little hard and her legs weak.
Her mind?
sharp as a tack.
Her one joy is to visit with her great grandchildren.
She had one daughter
four granddaughters.
and now... nine great-grandchildren.
The boys finally arrived; four and counting.
The most recent addition was born a short while ago.
Her biggest wish was to be able to see him.
But he lived across the country and it would months before he would travel to see her.
But we decided she shouldn't have to wait that long.
Nana was going to Skype.
The moment she set eyes on him, no one else was in the room.
Her face said it all.
She cooed with him, and marveled at his handsome good looks.
He talked for her and smiled.
Her supper got cold.
Who would have thought this would be possible in her lifetime?
We all had a chance to visit.
Nana was surrounded by her family, near and far.
The distance no longer mattered.
Nana was Skyping,
and I bet if it had been possible,
she would have let him have a little sugared cereal in his bed.
xo
PS With all of the wonderful encouragement I received yesterday, in response to my fear of the kitchen post, I am taking steps to face my cooking inadequacies. I will be collecting and trying all the recipes forwarded to me and creating a Good Eats section chronicling my journey.Today I am also linking up an
old recipe post
,
as well as looking for many more easy family friendly recipes at:
at
The Goat And The Kid
.
This post is linking up to: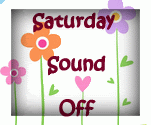 Click the box to visit other favourite posts bloggers have chosen from the past week.