I may just have to start a weekly fashion Post, called Style For A Steal.
I get such a kick out of it.
This week is being sponsored by none other than....Value Village....Ta Da!
I know what you're thinking.
How tacky.
Right?
Wrong.
It all started with this dress last fall. It was a warm Friday afternoon, and as the girls and I were driving home I was trying to figure out what we could do for fun. I spotted Value Village and told the girls they could each have five dollars to spend on whatever they wanted.
We were going on a Thrift Store Adventure.
This dress my eldest found, was twelve dollars. I know, so we went over the allotted amount, but how could I say no when she walked out looking like this?
The dress is hanging downstairs and she wants to wear it to her grade 12 Grad.
That may or may not be the case in three years, but the enjoyment of trying it on several times has been worth it.
Can you place a price on feeling like Cinderella? I think not.
This past week, after an early afternoon meeting at the high school there was some time to kill before the younger two were picked up. I suggested we go and check out Value Village Thrift Store, and my frugal fashionista was more than happy to oblige.
She found this barely worn beautiful teal cardigan.
... along with a lined yellow pencil skirt made in the Ukraine.
It looks exactly like one currently sold on the Anthropologie website.
The only difference? Both pieces were each less than six dollars.
I love that she already has her own sense of style. And that she gets as much of a kick out of finding a crazy good deal, as her mother.
Style For A Steal is our motto hear at Bungalow'56.
She knows how to make her frugal dutch mama proud.
I know my Oma is smiling down at her right this minute. I can feel it.
Items like this are so versatile and unique.
And just like at a Couture boutique, there is always only one in that style and size.
So you know you have A O
ne of a
Value Villag
e
kind
.
It's all in how you look at it, isn't it?
Sure we could go hang out at Hollister and Anthropologie.
But really?
I ask you?
Where is the fun in that?
With these great finds! I'm linking up to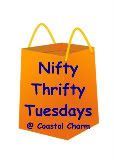 xo