Remember this girl?
Well she's gone.
This Sweet Shot is all I have left.
Before her trip to the Big City with her class, she decided she needed a new look.
I was skeptical.
I liked the way she looked.
All springy and coily, all romantic and loopy.
But she was not embracing the springy, romantic loops, no matter how much I whined and pleaded with her to keep them.
She had been begging to get her hair cut for months now.
She hated the frizz and tangles.
I, on the other hand, had been putting her off for those same months.
I loved her frizz and tangles.
You see? I secretly called them... curls.
But she knew what she wanted.
She knew it was all semantics.
Curls/frizz, potatoe/potahtoe.
She also knew she was old enough to make her own hair decisions.
And she finally got mad, picked up the phone and held it to my ear.
I made the appointment under duress.
Luckily for us, we have a wonderful hairdresser.
She made the process painless.
She is always so positive and happy.
The girls like her. I like her.
She likes to laugh. It's a big likefest.
Plus she gives a great cut.
A bonus really.
My daughter was so thrilled, with the lack of fuzz and tangles she didn't even notice the weirdo in the salon taking tons of pictures.
She didn't get mad at me once.
I think I could safely say she was
"Tickled Pink"
When will I learn, that they know a thing or two about how to look good.
I'm going to have to get used to this.
Where is my daughter?
The one with the curls.
Has anyone seen her?
Since we returned home, I've been following her with a spray water bottle.
Who knew that with just a few spritzes the curls return?
I'm happy, she's happy.
Frizz or no Frizz.
I've managed to cope. It's not permanent... hair grows back.
At Least...
It Wasn't A Tattoo.
This Half Glass Full Parenting Moment brought to you by Bungalow'56.
A subsidiary of
Haircuts-Yes. Piercings and Tattoos-Over My Dead Body
.
Today I am sharing my parenting journey with: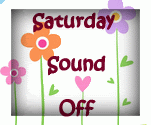 Steady Mom's 30 Minute Challenge

and

Holly's Monday Potluck