As you may have noticed we have been dealing with a lot of the above weather for a week or so now.
The temperatures are hitting -25 degree celcius which feels like -32 with the wind chill. (-23.8 F)
The kids are not being sent outside for recess at school, so you know here in Northern Canada,
that means it is darn tootin cold!
Maybe not quite as cold as it was on
this day
... but still cold enough.
When I look out the window at my crazy Youngest,
who doesn't seem to feel the cold in the same way
herpoorshouldhavebeenborninawarmerclimate mother does.
I start dreaming of Spring...which. I. then. realize. is still a good four months away.
Yup, it can, and does, snow in May. Late. May.
If you don't believe me and think that I am prone to over exaggeration?
So in order to maintain my sanity, I begin looking for ways to grasp at hope.
Hope of warmth, and all things summer.
I thought the wreath above would be a good start, and was thrilled to find it,
but on this particular day,
I only had a half hour before I had to venture out into the god forsaken cold
white wonderland to fetch my children.
You see... I had spent an hour a few minutes reading PW's post on food photography.
And I decided this was something I needed to perfect.
This minute, before the kids came home from school.
Plus I was still dreaming of butterflies and summer.
So....
I decided I could have my cake and eat it too... so to speak.
Except I was working with a cookie instead.
See the cross over?
See how I did that?
Food photography practice, with a hint of summer hope?
I felt as though I was having a Martha moment.
I figured warm cookies with some hot chocolate might be just what the doctor ordered.
Plus I could try out the shot from a table near the front window.
Yup, that's what these 'Food Photogs' do.
They actually move their food from the kitchen to a place where the light is better.
And food generally looks best in/on white dishes.
Who knew?
I didn't.
Until I read
this
.
I was having a moment.
Not only did I bake and decorate my children some amazing Martha-esque treats...
But I also learned how to make them look even better than they tasted.
Now I know you're thinking, as you're sitting there in front of your screen...
"Wow, that Dana from Bungalow'56 is truly amazing. She just whipped up some sugar cookies with icing and decorated them in a half hour, plus took pictures of them for me to enjoy and she didn't even break a sweat."
But as you know, nothing is ever as it seems.
I have a secret.
And I feel I need to share it with you.
Her name is Betty.
Betty Crocker.
And she tries her best to make me look like Martha.
She's got my back.
I owe her big time.
And you know what?
They are perfectly happy with Betty, as am I.
We work well together.
In fact...
I think she's the best friend a girl could ever have.
xoxo
PS
If you want to check out some amazing
"Food Photography"
.
Pioneer Woman is hosting a contest.
But make sure you have a snack before you go.
I promise it will make you very hungry.
PPS
As this post continues to sit on my screen, the weather continues to dip lower: -38˚C (-36˚F) with windchill now.
This post will be linking up to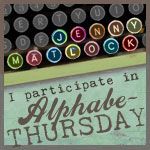 Where you can find many more 'N' posts!